iUC285
All-in-one contact & contactless standalone module for self-service business

Accept all payment methods with a single module integrating NFC/contactless, EMV, and magstripe
Meet the needs of advanced vending machines and kiosks with this standalone solution
Integrate electronic payment easily into your self-service business
Mount the device externally for easy integration
Highest Security Levels
PCI PTS 4.x certified, the iUC285 meets the highest and latest hardware and software security requirements. The iUC285 also complies with SRED and provides flexible options with Open Protocol modules.
All Payment Options, Including NFC/Contactless
The iUC285 accepts all NFC/contactless payments enabling mobile wallet acceptance, including Apple Pay & Android Pay. The device is MasterCard® Contactless, Visa payWave®, American Express® contactless, Discover® Zip®, and Interac Flash® ready. It also enables EMV Chip & Magstripe transactions that don't require PIN entry.
User-Friendly Design
The iUC285 provides a simple and friendly interface with a high-contrast backlit graphic display that provides clear user guidance throughout the interaction.
Highly Ruggedized
Thanks to its robust design, the iUC285 stands up to the most demanding outdoor environments and a wide variety of adverse environmental conditions. The iUC285 device is proofed against vandalism (IK10) and extreme weather (IP54).
Telium 2 Technology
Powered by Ingenico, Telium 2 Technology is the result of 30 years' experience in the payment industry. Secure, highly integrated and fast, Telium is the world's best platform to provide payment services. It provides a fully scalable, reliable operating system embedded into Ingenico's 30 million terminals deployed worldwide.
Easy Integration
The compact iUC285 is embedded in its enclosure and integrated according to the European Vending Association (EVA) market standard. External mounting makes for a simple installation and maintenance requires no additional equipment or commissioning.
Designed for Intelligent Systems
The iUC285 must be connected via USB or RS232 to a PC or Linux computer, which provides a full set of connectivity and connections. Covering most kiosk system requirements, it can communicate with kiosks, acquirers, hosts or service providers (telemetry).
Eco-Friendly
Stand-by mode guarantees optimal energy efficiency. Ingenico is committed to safeguarding the environment. Our manufacturing facilities are ISO 14001 certified.
iUC285 / Datasheets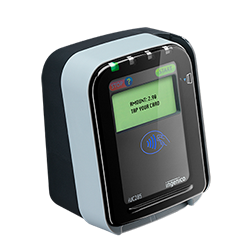 iUC285 / Datasheets
The iUC285 is part of the iSelf series, the iUC285 enables the simple and secure integration of contact and contactless payment into the Vending business.