Open/2500
Stealthy and powerful contactless module to fit any self-service solution in transportation, retail and hospitality

Designed for open payments by supporting transit and bank cards
Integrates easily into plastic validator enclosures (bus, train, ferries, etc.) or kiosk mounts
PCI-Certified dedicated contactless reader enables new use cases such as contactless ticketing, mobile and IOT payments and manages closed loop cards (Mifare, Desfire, etc.)
Also suitable for enabling contactless payments in retail and hospitality (e.g. - Retail Lockers, QSR Drive-Thru, etc.)
Part of the new generation of self-service devices, the Open/2500 offers the best contactless payment acceptance to meet all your open payment requirements in transport, retail and hospitality.
Highest security
PCI PTS 5.1 certified, the Open/2500 is natively designed to meet local regulations and ensure long-term compliance.
Contactless/NFC payment acceptance
The Open/2500 enables all contactless payment methods: Visa, Mastercard, Amex, Discover, CUP, Interact, Flash, ApplePay, Google Pay and more.
Multiple use cases
The Open/2500 can manage multiple use cases from contactless ticketing in transportation to QSR Drive-Thru in hospitality to even retail lockers.
Compliant with multiple standards
The Open/2500 is compliant with standards for use in fixed or mobile environments across multiple industries (transport, retail, etc.).
Easy mechanical integration in steel enclosures
Thanks to its flush design and large contactless landing zone, the Open/2500 fits perfectly in steel enclosures in a bus or subway turnstile or into a kiosk for retail lockers and QSR drive-thrus. The part visible to consumers includes an RGB backlit landing zone and 6 rows of 4 LEDs.
Powerful processor with large memory
Based on the most powerful processor of the Telium TETRA range with a large amount of memory, the Open/2500 has the flexibility to fit all open payment usage cases.
Highly ruggedized and durable
Thanks to its robust design (IK10) and high protection against water (IP65) the Open/2500 stands up to the most demanding indoor and outdoor environments. Thanks to an additional removable battery, the auxiliary battery life extends the device's overall life.
Product Information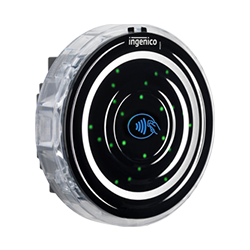 Open/2500 / Datasheets
Stealthy and powerful contactless module to fit any self-service solution in transportation, retail and hospitality.